Although technology has its short comings, the benefits of living in this era is access to information. Pretty much anything a person could ever want to know can be found on the internet. There is an incredibly user friendly app called "pinterest" that allows you to search any idea and it gives you thousands of concepts, tons of information, articles and most importantly recipes! In addition to electronic information there are lots of books that teach the benefits of a vegan lifestyle such as "Living vegan for dummies" and Russell Simmons' "The Happy Vegan".
To get you started on this exciting journey we are including a a recipe that can help to get you started, if the recipe does not tickle your fancy don't worry!! There are millions of recipes that you can access through any of the outlets that we listed before. There is no reason why a vegan lifestyle cannot be achieved…even if you practice it for 80% of your meals we can confidently say that the results will astonish you!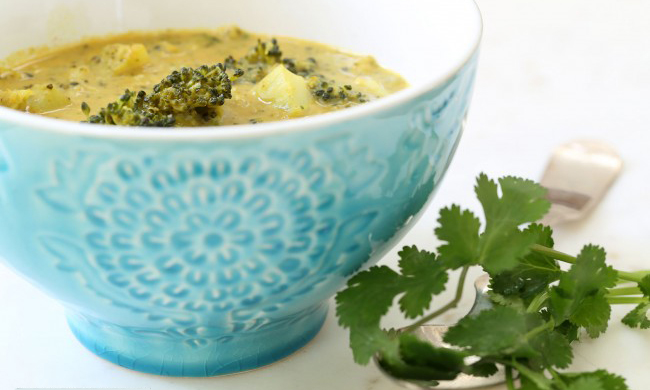 Ingredients
Coconut Curry Broccoli Soup Preparation
2 large bunches of broccoli, peel stems and
chop all
3 tablespoons coconut oil (extra-virgin olive
oil works as well)
1 large onion, chopped
1 Jalapeño pepper, seeded and minced
4 cloves garlic, smashed and minced
2 heaping tablespoons fresh ginger, peeled
and minced
4 cups vegetable stock
1 tablespoon curry powder
1 tablespoon red curry paste
1 teaspoon coriander powder
1 teaspoon turmeric powder
1/2 teaspoon cumin
1 15-ounce can coconut milk
1. Heat the oil in your soup pot. Add the onions and jalapeño. Sauté until the
onions are golden.
2. Add the garlic and ginger and sauté for another minute or two.
3. Add the broccoli and heat through.
4. Add the vegetable broth and bring to a boil, then lower heat to a simmer.
5. Stir in the curry powder, curry paste, coriander, turmeric and cumin.
6. Place lid on the soup and let simmer for about 20 minutes.
7. Remove from heat.
8. Using a stick blender, blend half of the broccoli mixture (leaving nice chunks of
broccoli).
9. Pour in the coconut milk and reheat soup.
10. Garnish with cilantro (optional)
If you're not in the mood to cook and you would like to special order any of our recipes, just send us a message and we will happily meet your needs.
SPECIAL ORDER